Chris Scheler - Electronic Press Kit
About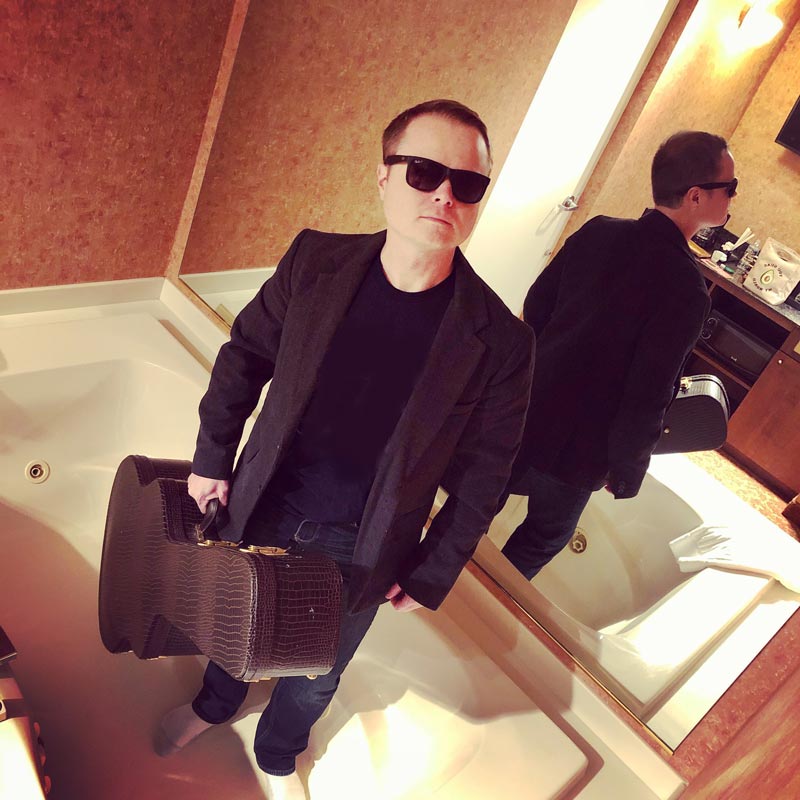 Chris Scheler has been a frontman, guitarist, and bassist for several bands, and has enjoyed the privilege of performing at numerous renowned venues throughout the country. He'd love to play at yours.
After more than a decade sharing the stage with various bandmates, Scheler released his debut solo EP in 2017, a five-track release titled "Alone Inside My Head." The soul-searching lyrics and accompanying charged melodies generated a strong response from live audiences and online listeners alike. The album was produced and engineered by River Run Music's Luis Rivera.
Scheler's songwriting influences manifests from a variety of artists and genres ranging from the Stone Temple Pilots to The Beatles to Led Zeppelin. Scheler's originals are known for their lyrical hooks and catchy guitar riffs. To keep everyone entertained, Scheler additionally performs a wide variety of covers ranging from classic rock to today's hits.
In April 2019, Scheler dropped his next EP titled "Refurbished Goods, Vol. 1." The record brings back four re-recorded favorites from the past 15 years, plus a new instrumental track.
Chris is always interested in hearing from booking managers. To get in touch, email info@chrisscheler.com or call 717.968.4672.
---
Listen
Covers Repertoire
This list is continually updated and subject to change.
Alice In Chains

Nutshell
Down in a Hole
No Excuses

Jimmy Buffet
Johnny Cash
Coldplay

Lost?
Viva la Vida
Yellow

The Cure
Deep Blue Something
The Doors
Elton John
The Eagles
Foo Fighters
Foster the People
Green Day
Incubus
James
Jethro Tull
The Flys
Freedy Johnston
Led Zeppelin

Tangerine
Dancin' Days
When The Levee Breaks

Lynard Skynard
Matchbox Twenty
John Mayer
Modern English
Van Morrison
Jason Mraz
Pink Floyd
Poison
Nirvana

About a Girl
Polly
Come as you Are

Oasis
Radiohead
Smashing Pumpkins

Disarm
Thirty Three
Today

The Steve Miller Band
Stone Temple Pilots

Interstate Love Song
Plush

Taylor Swift
Tom Petty and the Heartbreakers

Last Dance with Mary Jane
American Girl
I Won't Back Down

Tonic
Violent Femmes
Walk The Moon
Weezer

Island in the Sun
Say it Ain't So
Venues Played
Scheler has performed at these venues in various acts:
Whisky a Go Go - Hollywood, CA
Lucky Strike - Hollywood, CA
Ottobar - Baltimore, MD
Ocean City Convention Center - Ocean City, MD
Chameleon Club - Lancaster, PA
The Village - Lancaster, PA
Annie Baily's - Lancaster, PA
Continental Sqaure - York, PA
White Rose Bar and Grill - York, PA
Gift Horse Brewing Company - York, PA
Iron Horse York - York, PA
Stony Run Brew House - York, PA
Fat Daddy's - York, PA
Tailgaters - York, PA
Westgate Lounge - York, PA
Dean's - Hampstead, MD
The Hodle - New Freedom, PA
Glen Rock Tavern - Glen Rock, PA
Isaac's - York, PA
The Valley Tavern - Seven Valleys, PA
The Stockade - York, PA
Victor's - York, PA
Tourist Inn - York, PA
The Glad Crab - York, PA
O'Shea's - Shamokin, PA
The Underground - Columbia, PA
McFly's - Lancaster, PA
The Gingerbread Man - Hummelstown, PA
Chucky B's - Columbia, PA
Grinder's - Elizabethtown, PA
Sparky and Clark's - York, PA
York City Ice Arena - York, PA
Wheelie Bar - York, PA
Various private events
Various festivals/benefit shows